When:
February 17, 2021 @ 4:26 pm – 5:26 pm
2021-02-17T16:26:00-05:00
2021-02-17T17:26:00-05:00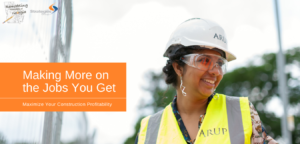 Construction companies are in business to do two things: build things and make a profit. Why are many of us experts at accomplishing the first goal, but struggle at the second?
As you know, the construction industry often has razor thin margins, and these margins continue to get thinner as competition and firm consolidation increases. However, a successful subcontractor works to widen the margin, not by compromising the integrity of the work done, but by leveraging accurate data to know their business inside and out.
Our webinar will discuss the key ways to maximize profitability in your construction business to make you more competitive in today's overly competitive economy.
Register today for our Virtual Lunch & Learn to grab your lunch on us through Grubhub and enjoy a brief presentation and live Q&A.
Date:  February 17th, 2020
Time:  1:00 PM
CLICK HERE TO REGISTER FOR THE MEETING
---
Presented by:  Pat Chappell, Senior Enterprise Sales Representative at Strategies Group
Since graduating from Clemson University in 1975, Pat has focused on helping architects, engineers, developers, and construction companies select and implement estimating, project/equipment/service management and financial accounting solutions.
Megan Elwood, Business Development Manager at Strategies Group
Megan is Strategies Group's Business Development manager and is a member of many state and industry organizations including the Georgia Manufacturing Alliance, Construction Financial Management Association, Women in Manufacturing, and Associated Builders and Contractors.